News
CANCELLED UNTIL FRIDAY
posted Feb 27, 2020, 10:57 AM
TIME TO BE DETERMINED BUT CLOSE TO SAME TIME AS TODAY'S.
FAMILY/FUN/YEAR END SKATE
posted Feb 21, 2020, 10:16 PM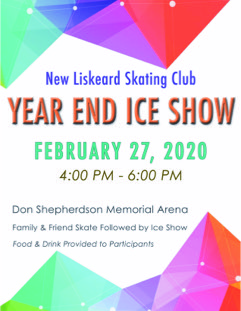 NLSKATING
CANSKATE
posted Feb 19, 2020, 5:18 PM
We are offering a Spring School Session for Canskaters and CanPower Skaters
Skating will be on Thursdays from 5:30pm to 6:30pm.
First session starts on Thursday March 26th and every Thursday until April 16th. Only $40.00
CANSKATE/CANPOWER
posted Feb 4, 2020, 4:41 PM
ICE IS BACK IN. CANSKATE AND CANPOWER SKATE SESSIONS START AT 5:15 P.M. ON THURSDAY. SEE YOU LATER THIS WEEK.